The Marshall Project
Role: Audience Editor
As part of The Marshall Project's founding team, I created our analytics, engagement and growth strategies, managed our social accounts, and, drawing meaningful insights from our data, dreamed up product ideas to help us grow. I was product manager for on-site email signup redesign. Since I started, Facebook grew more than 1000%, email grew 512% and Twitter 480%.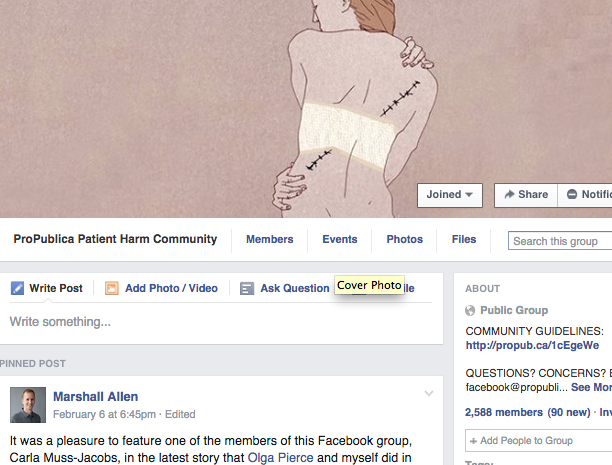 ProPublica Patient Harm Community
Role: Community Manager
Managed community-building and crowdsourcing for ProPublica's investigation into patient harm, with journalists Marshall Allen and Olga Pierce. Elements included a Facebook group, callouts and audience-driven content. Here is an explanation of how we used Facebook to power the investigation. The project won a 2016 Deadline Club award for science, medical or environmental reporting.
Investigating Unpaid Internships
Role: Community manager, news application design
Lead community manager on ProPublica's investigation into unpaid internships. In addition to reporting, running a successful Kickstarter campaign and executing callouts, I also created the concept, reporting recipe and tech specifications for a community-powered news application. Designed with Sisi Wei and Mike Tigas. Here's an explanation of the app.
Building a Better Explainer
Role: Editor
As part of a capstone graduate project at NYU on explanatory journalism, I edited this online magazine on constructing FAQs for journalism. Part of a larger project on building better explainers, which included the Fracking Song. Here's a Nieman piece on the project.